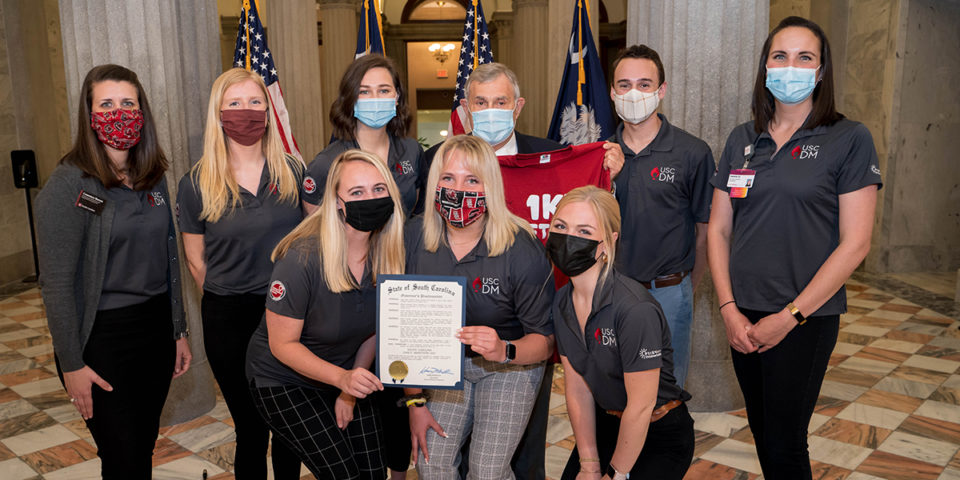 A Reflection on USCDM's Commitment to Helping Midlands Children and Families
A college education can provide you with many benefits – mainly, it prepares you both intellectually and socially for your future career and life as an adult. From classes to dorm life, buying your own groceries for the first time and being the one responsible for getting to class on time – college is a time of growth. It provides opportunities for students to expand their minds and their personal development through classes, athletics, new social opportunities and participating in student organizations. 
 
In my role at Prisma Health Midlands Foundation I am extremely lucky that I get to work with one of these student-led organizations, University of South Carolina Dance Marathon (USCDM). USCDM is the largest student-run philanthropic organization on UofSC's campus, and, in their own words, is "a movement uniting our students, campus and community to raise funds for the Child Life Program at Prisma Health Children's Hospital—Midlands, our local Children's Miracle Network Hospital." 
I serve as the hospital advisor for USCDM and I get to work with the USCDM leadership team throughout the year as they work tirelessly to raise funds for our Children's Hospital. Though this group changes every year the caliber of the students stays the same – ridiculously impressive.  
Each year I am blown away with what these students accomplish, but even more so this year due to the unique challenges brought on by COVID-19. The 2020-2021 USCDM team dealt with a complete upheaval of their personal and academic lives and yet they continued on with their commitment to USCDM. They hosted virtual dance parties, planned socially-distanced fundraisers, drafted and re-drafted COVID-approved Main Events – all while attending class, studying for exams, working jobs, securing internships, applying for graduate school and navigating a global health crisis. 
Their commitment was on full display on Saturday, February 27 when their year of hard work culminated in their hybrid Main Event where they hosted a socially distanced, safe, in-person event and live streamed the day's festivities to hundreds of virtual participants. This 12-hour, high-energy event ended when they triumphantly announced their fundraising total—more than a half million dollars. They went on to raise $619,243!
These students were able to raise more than $600,000 in a year where the entire world has been turned upside down. They were able to find ways to engage their peers, their families and their communities; they were able to once again make miracles happen for sick and injured children, many of whom they'll never meet. 
On March 23, Governor Henry McMaster honored USCDM with his proclamation of USC Dance Marathon Day. The day celebrated these students' incredible dedication to the children of the Midlands region and their relentless efforts to create change, regardless of the challenges placed before them.
Working with this organization is one of the highlights of my professional responsibilities, and as a mother to two, small children it gives me incredible peace and overwhelming optimism knowing that there are young adults out there impacting the lives of children in my community and improving the quality of health care for all. I can't thank the students of USCDM enough for what they have done this year, and in the 23 years that they have been supporting our hospital.  
So, yes – the college experience can provide you with a lot, but today I am most thankful for what it has provided for our Children's Hospital. Thanks to USCDM our hospital can continue providing our patients and their families with vital programs and services that ensure that each patient receives the very best care right here at home. 
Learn More About USCDM