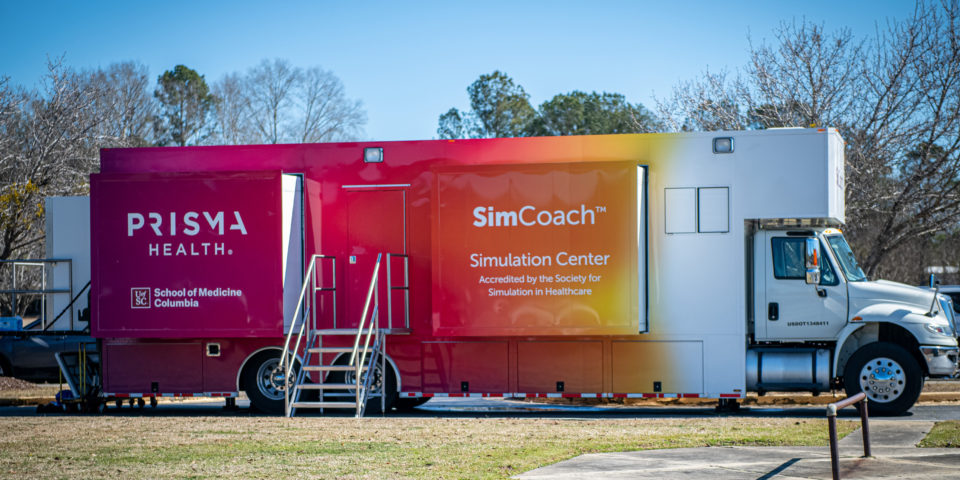 SimCOACH™: From Mobile Simulation to Vaccine Outreach
In 2014, Prisma Health-Midlands unveiled SimCOACH™, a fully equipped mobile simulation training center led by Prisma Health-University of South Carolina School of Medicine Simulation Center. Through SimCOACH, team-based medical simulation training is offered to students, nurses, resident physicians, military medical personnel and the public–many of whom would have to travel from across the state for this specialized training ranging from individual patient care to disaster response scenarios. SimCOACH offers the opportunity to practice complicated procedures and scenarios without posing a risk to a patient's health, thus reducing medical errors, saving lives and cutting health care costs. SimCOACH and several patient simulators were funded by generous donors to Prisma Health Midlands Foundation.
At the onset of the COVID-19 pandemic, SimCOACH operations were paused, and the mobile unit was parked. However, when coronavirus vaccines started rolling out across the country, Randy Branham saw an opportunity to get SimCOACH back on the road. Randy, director of Simulation and Clinical Skills at Prisma Health-Midlands, worked with the vaccination team at Prisma Health-Midlands to create a plan to help vaccinate citizens in the Midlands region.
"We realized our team has skill sets and experience that were in great demand, to include administration of vaccinations and monitoring afterwards for adverse effects, along with the ability to respond rapidly and treat patients who may experience those side effects," said Randy. "SimCOACH is an excellent resource to support mobile vaccination events, as it provides space for a pharmacy team to prepare dosages and a generator to provide power for laptops, Wi-Fi units and other devices as needed. After several years of providing high fidelity mobile simulation across the state, we felt confident that we could stage vaccination events with very little start up time required."
SimCOACH provides ample room, equipment and accessibility to help vaccinate citizens across the region, especially in more rural areas. It has already been used at 10 vaccination events and will continue to provide vaccinations three times a week starting this April.