Playing With Purpose For Anthony Ingham
Supporters of The Drive golf tournament next month will play with purpose—for patients like Anthony Ingham. When faced with prostate cancer, Anthony received robotic-assisted surgery at Prisma Health—Midlands. I talked to Anthony about his health care journey and experience with the latest surgical innovation tools: the da Vinci® Robotic Surgical System.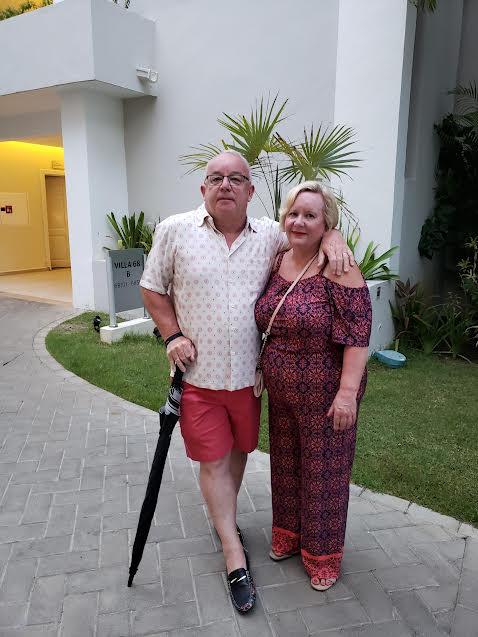 Tell me about yourself, both personally and professionally.

I just turned 60 years old on March 3. Twenty-five years ago, my wife and I moved to the United States from England, and we have been in South Carolina for 20 of those. I work with computers and information technology. 
Tell me about your health journey and what led to your diagnosis. 

When I turned 50 years old, I started going for annual physicals. I never really bothered going before that. Every year, they would test my PSA (Prostate-Specific Antigen) levels and, slowly, it started rising. Eventually, my PSA rose from about a 3 to a 7.7, which was when my doctor explained that things were not quite right. At this time, I had no symptoms. After seeing these levels, my doctor referred me to a Dr. Scott Castle, a Urologist at Prisma Health in Columbia. After having a biopsy, I was then diagnosed with Prostate Cancer.
Were you given information about a traditional surgical procedure, or was the conversation with your care team always about robotic-assisted surgery? 

Because of my younger age, Dr. Castle and the care team decided that da Vinci® robotic surgery was probably the best course of action for my case. Had I been older, they might have decided against the surgery. They gave me time to do research and think about it. 
What was your initial feeling when you decided/were told that robotic-assisted surgery would be your best option? Did it give you comfort and peace of mind?
I was always against radiation surgery because of my father. Many years ago, around 1970, his radiation surgery was messed up, which caused a whole manner of medical problems. In fact, his radiation surgery was nothing to do with prostate cancer. It was on his larynx. Because radiation was in its infancy then, the radiation ultimately ended up shortening his life. I know things have come a long way, but ultimately, we decided that surgery would be my best option. With the da Vinci Robot, it basically makes little keyholes, making it much less invasive and less scarring. It helps the doctor get great views, massive close-ups and magnify things hundreds of times. Being told this was the surgery I would get definitely made me feel more comfortable.
What was your recovery like? How long did it take you to resume your normal daily activities?

My prostate surgery was October 2, 2019, just a few months before the COVID-19 pandemic broke out. The surgery went well and I was only in the hospital for one night. They removed the prostate, tested my lymph nodes and couldn't find any case of a spread, meaning that everything was contained in the prostate. It went well. I was off of work for two and a half weeks and then I returned to the office. I had no major side effects and very limited problems that are usually expected with the procedure.  
How are you doing now?

Everything has been good for me, and I haven't been having many issues. I think with the treatment and the surgery, overall, my experience went very well. I still go back to the doctor to get my PSA tested on occasion, to make sure that there are no cancer cells that have escaped. This is usually every six months.

What advice would you share with others who are receiving or considering robotic-assisted surgery?
If given the choice of going the surgical route, I believe I would recommend this to a patient. There are many information resources available. For example, I regularly visit a Facebook forum for those who have been diagnosed with the same cancer. There are many people who are out there who are terrified of the surgery because they think more can go wrong, and there are some who swear by radiation treatment. Instead of coming back week-after-week, I figured it would be better to go ahead and get the cancer out.

Prisma Health is investing more than ever in expanding its robotic-assisted program in the Midlands. Proceeds from The Drive golf tournament will help fund a new da Vinci® Xi Robotic Surgical System, in support of the surgical program at Prisma Health Cancer Institute—Columbia. Robotic-assisted surgery is the new standard of care for many patients facing surgery. It's minimally invasive, so patients have shorter hospital stays and faster, easier recoveries.
To learn more about how you can get involved in The Drive through a sponsorship or golf foursome, visit TheDriveColumbia.org.

Learn more about the da Vinci® Xi system here: https://youtu.be/gZdGBys3szE

Kasey Campbell is an intern at Prisma Health Midlands Foundation. She's a senior in the School of Journalism and Mass Communications at the University of South Carolina.