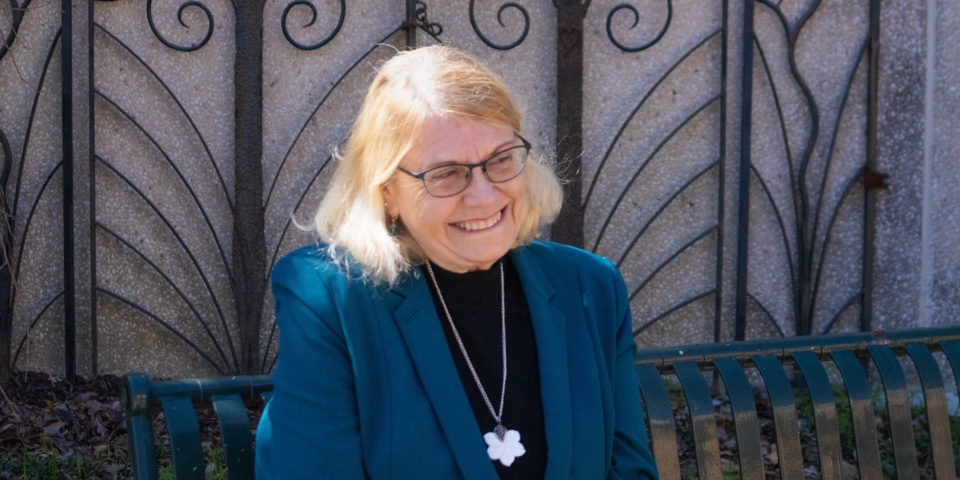 "It's just a blessing to be able to see everything come to life again."
We're wrapping up our interview, and Peggy Meyer chooses these words very deliberately, then smiles at me. We're seated in a courtyard at Prisma Health Richland Hospital, the same hospital where just a month earlier the 69-year-old retiree underwent a major surgery to remove cancerous tumors from her abdomen. It's an unexpectedly warm day in late February (Tyler, our social and digital manager, is  setting up shields to block the abundant sunlight!) and crape myrtles are already blooming. Winter giving way to Spring.  
It's just a blessing to be able to see everything come to life again.
Peggy's story is one of a crushing diagnosis: The two spots on her liver, detected during an emergency room visit, were cancer. And, by the way, it was also in her small intestine.
The good news came later, after a team of oncologists, pathologists, surgeons and others reviewed Peggy's case during Prisma Health's regularly-scheduled cancer conference– a meeting of the minds to review newly-diagnosed patients' cases and discuss the best path forward. It was then that Peggy learned she was a candidate for a complex surgery to remove her cancer.
Within a matter of days, Peggy met with Dr. Jesse Clanton, a liver and pancreas surgeon, and the surgery was scheduled. Using highly specialized equipment, Dr. Clanton removed the cancer. Peggy spent a week recovering at Prisma Health Richland Hospital before returning to her home in Irmo. The spry mother and grandmother is already back to tending to her azaleas and spending time with her family.
Peggy is monitored closely by her oncologist but does not have to undergo any further treatment at this time.
Peggy was one of the first patients to benefit from an investment of more than $290,000 in innovative surgical equipment that is used by Dr. Clanton and has applications for other surgical areas as well. These dollars were contributed over the prior year by members of The Cavalry, our young donors society; and The Atrium Society, as well as donors to The Drive golf tournament. The individual decisions of these families to give to support high priority cancer needs yielded a beautiful result – the chance for Peggy and others to continue to live their lives, fully.
As many families know all too well, liver and pancreatic cancers can be, in Dr. Clanton's words, very challenging to treat. Thankfully, advancements in recent years mean that more individuals are eligible for surgery to treat their cancer. Assembling the talent and the equipment for hospitals to take these leaps forward often requires the collective philanthropy of their local communities. Thank you, to all who made this possible.
Each year, more than 2,200 individuals rely on Prisma Health-Midlands for their cancer care.
Do you want to join us in fighting cancer in the Midlands? We need you! Please consider joining The Cavalry (donors 40 and under) or The Atrium Society. See websites below to learn more or reach out to Anna Saunders at 803-414-9240 or anna.saunders@prismahealth.org.
Learn more about The Cavalry Society