Hope, Light and Encouragement at CAMP KEMO
contributed by Kelsey Carter, Founder and Director, Camp Cole

CAMP KEMO for my family and me represents home.

At the age of 10, my brother, Cole Sawyer, was diagnosed with a rare form of cancer, Rhabdomyosarcoma, and our world was turned upside down. Cole was no longer able to attend school. We spent holidays in the hospital, and Cole's friends found it hard to connect with him regarding his new reality of chemotherapy, radiation, and needles.


(l-r) Kelsey with her parents, Cole and sister at "Bowl for Cole," a fundraiser hosted by the Delta Delta Delta chapter of USC in honor of Cole in Nov. 2003, a couple of months after he was diagnosed with Rhabdomyosarcoma

During such a dark time in our lives, CAMP KEMO provided hope, light, and encouragement for our family. CAMP KEMO provided a slice of normalcy for us. We loved camp prior to Cole being diagnosed, and now it was something he could participate in despite his battle with cancer.
I'll never forget when we first arrived at camp. Cole immediately took his hat off, feeling free of the world's judgment. He was surrounded by other children with beautiful bald heads. It was from that point forward that a smile never left Cole's face. During the week of CAMP KEMO, Cole made sincere friendships, tried new things, and talked openly about his cancer journey with peers.
As camp ended, it was tearful to say goodbye to new friends and selfless counselors, but we felt like we finally both belonged to a family that understood the obstacles that cancer brings about. When we returned home, CAMP KEMO was a topic at dinner table conversation every night. We shared memories that little did I know, would last a lifetime.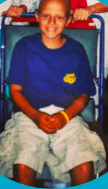 Four months after camp, Cole passed away. We buried him with his CAMP KEMO friendship bracelet.
Ever since the summer of 2004, CAMP KEMO has held a special place in our hearts. Over the years, my family and I have felt nothing but the utmost gratitude for CAMP KEMO because it gave Cole and me the opportunity to feel normal, to feel valued, and to feel a part of something bigger than ourselves.
Wanting to become a part of the Camp KEMO family herself, my mother, Stacy Sawyer became a very active volunteer decorating for camp every year. For years, she served as a CAMP KEMO advisory board member. She saw firsthand the lives that were impacted by CAMP KEMO's program and always wanted a special physical place for CAMP KEMO to call home. Visiting different camps and retreats across South Carolina, mom never found the perfect camp home, so it was always her dream, alongside Deans Fawcett, another CAMP KEMO advisory council member, to build a future inclusive home for CAMP KEMO.
In 2016, my mother suddenly passed away from a neurological stroke, and we knew her dream of providing a safe, accessible camp home could not die along with her. That's when the Fawcett Family and the Sawyer Family teamed up to create a state-of-the-art camp and retreat center accompanied by a medical care facility, for children, teens, and adults with illnesses, disabilities, and life challenges—named after Cole.
Camp Cole was completed in June 2021, and this year has the incredible opportunity to serve CAMP KEMO campers. My heart is bursting with excitement as I hear the contagious laughter and see the joy that is taking place right now on Camp Cole's campus. I know this week will be packed with memorable moments, stacked friendship bracelets, and seeing campers just like Cole make friends that will last a lifetime.
You can help children with cancer and their siblings have an unforgettable summer camp experience June 13-18 at CAMP KEMO, held for the first time at Camp Cole. Join us in celebrating bringing CAMP KEMO home to the Midlands by making a donation. CAMP KEMO is led by the CAMP KEMO Programs team in the Children's Center for Cancer and Blood Disorders at Prisma Health Children's Hospital in the Midlands.